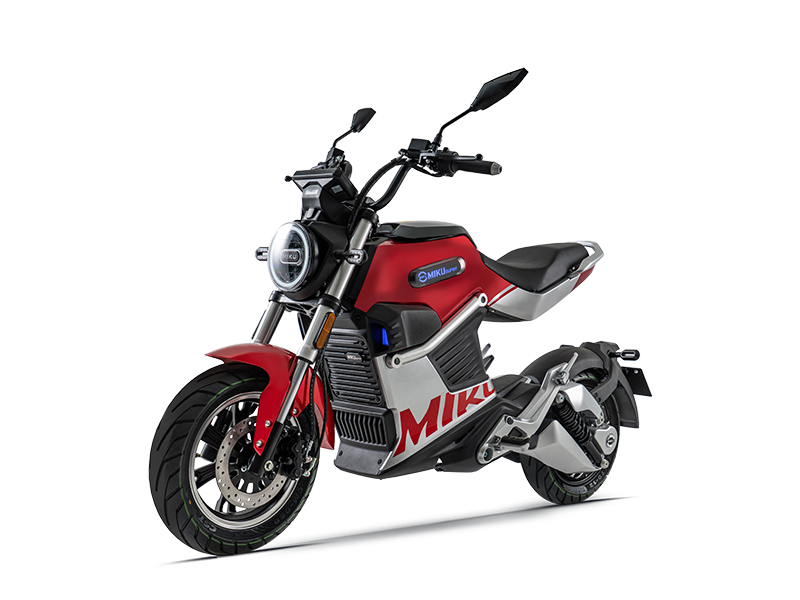 MIKU SUPER is the benchmark by which all subsequent electric sports model will be judged.

The super-stealthy, high torque powertrain will propel you to 50mph in 8.5 seconds with zero emissions.

As if that wasn't enough, the ultra distinctive styling is available in 3 wild paint schemes in the UK to suit every buyer. Quiet has never been so loud.
• Digital instrument display
• Neoretro styling
• Full auto LED lighting system
• Keyless fingerprint touch start
• Removable Lithium-Ion Battery
• App interface
• 4 hours charging time
Powertrain: Electric Hub Motor
Max Motor Power: 3000 W
Max Speed: 50 mph
Max Range: 65 miles/105 km*
Battery: 2 x 72v 20Ah
Recharge Time: 4hrs
Weight: 109kg
All SUNRA models are eligible for the Government Plug-in Motorcycle Grant discount scheme.
Price shown includes PIMG* Please visit our website for further details.
Price & Availability: £3,499* / Now in UK SUNRA dealers
Bike: 2 years unlimited mileage / Battery: 3 years / 18,000 miles