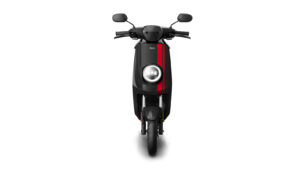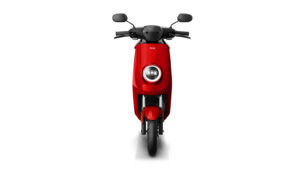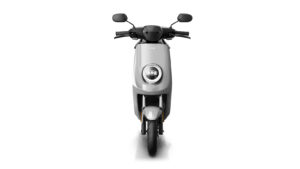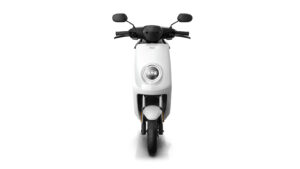 The MQi+ Sport Extended Range (ER) is provided with a Panasonic 18650 Lithium-ion battery with a 3 year warranty and a quoted range of up to 40 miles and can be charged from a regular 13amp plug.
The scooter is provided with a 1,400 watt Bosch electric motor and is equipped with an EBS braking system for a braking distance of just 1.4 meters. The system also provides regenerative braking in which energy from braking is returned to the battery.
The MQi+ Sport headlamp uses a state-of-the-art silicon on silicon LED technology. This technology outputs greater luminosity while reducing energy use. The lamp has been designed to provide low and high-beams for a comfortable visibility field. With a 270° visibility, the M+ tail lamp provides an added layer of safety, and a distinctive and iconic design. The MQi+ Sport also has a 360° Light Halo around the scooter for safety to ensure pedestrians and drivers can see you at night.
The NIU Cloud ECU has been upgraded to our next-generation version 3.0 telematics controller. As the brain of the vehicle, it monitors, collects and analyzes vehicle information dozens of times per minute. This lets you remotely monitor the vehicle diagnostics and GPS anti-theft system. Plus, its OTA features allow you to wirelessly upgrade your scooter's software without having to bring it into a service station.
Our showroon in Oxford at HiQ Tyres & Autocare Oxford
Our showroon in Oxford at Grip Tyre Bicester
Xeromotorbikes Oxford
Oxford Motorbike MOT Centre
29 Ferry Hinksey Rd
Oxford OX2 0BY
Xeromotorbikes Bicester
(at Grip Tyre)
Victoria Rd, Bicester
Bicester OX26 6QD